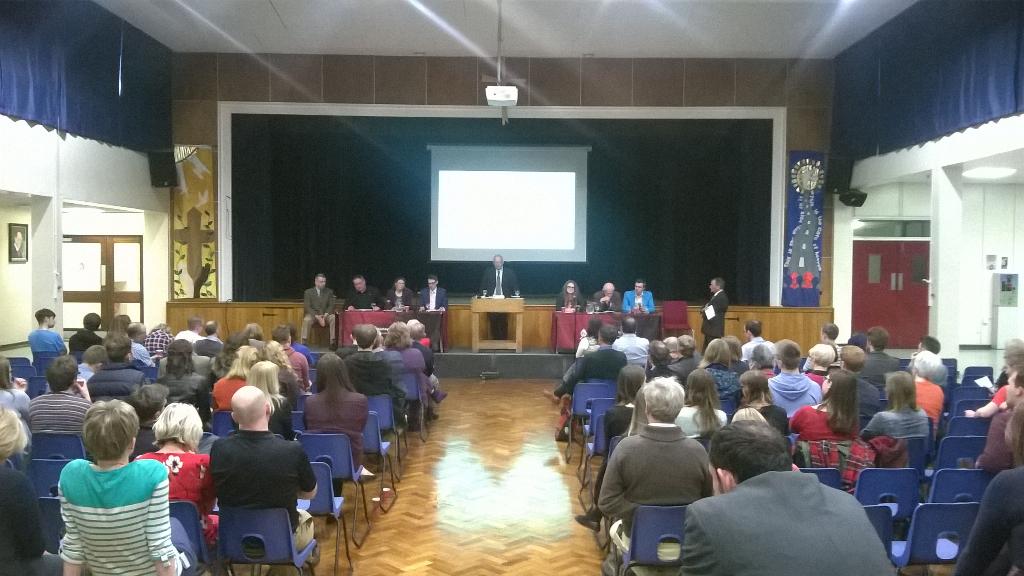 It was education and the interests of the young that dominated questions for the parliamentary candidates for the York Central constituency in a hustings on the 14th. Seven political candidates answered the questions of students and locals in a well-organised event hosted at the Archbishop Holgate CofE Academy, chaired by Richard Staples of Radio York.
The candidates were first asked to explain why they had chosen to stand as prospective Members of Parliament. The candidates came from a variety of backgrounds, some of which to me were unorthodox: the Conservatives' Robert McIlveen, the Liberal Democrats' Nick Love and UKIP's Ken Guest came from industrial or business backgrounds whereas Yorkshire First's Chris Whitwood is a primary school teacher and the Trade Union and Socialist Coalition's Megan Ollerhead is a student at the University of York. Some candidates were motivated by events of the past and present to stand for their parties: Ken Guest said he had witnessed "the great European federalisation project" and its detractors for too long, motivating him to represent UKIP, while the Green Party's Jonathan Tyler was inspired by the Suez Crisis, a radical teacher, The Limits to Growth and A Blueprint for Survival to represent the People Party, the Ecology Party and finally the Green Party. He has stood in several bye-elections before. "It certainly would be nice to get elected," he said.
The first questions concerned education, its funding and the employment of unqualified teachers in schools. Would the candidates ringfence education spending, and did they side with NUT, which asks for every teacher to be appropriately qualified? Mr. McIlveen said that under the Conseratives there will be "no cheapskating" when it comes to education, and every child should be encouraged to push themselves to the extent of their capabilities. Mr. Guest called for the return of grammar schools and technical schools; when it came to ringfencing education spending he hinted at "additional funds" that his party would use to support, though was unable to say where these would come from – though I imagine the answer would concern leaving the EU.
Labour's Rachael Maskell and the Greens' Jonathan Tyler both said that education was not something that happened in your early years but was for life. The Greens argued for "far firmer" taxes for the wealthy, cutting Trident and HS2, in order to counteract the cuts to education and other areas that they "utterly deplore". Mrs. Maskell said that in education today there is too much focus on passing exams and ticking the boxes of excessive paperwork, an argument echoed by Chris Witwood, who said that children should love education regardless of the results they get in their tests.
Elsewhere the candidates were asked about how they would support the poor, the vulnerable and the elderly. Mr. Tyler said that the great problems we face are the consequences of of the misbehaviour of the financial sector, and it was the Conservatives who used the opportunity to penalise the poor for ideological reasons. After objecting being cut off by the mediator he called for higher taxes for those who can bear it, bringing him applause. Mr. McIlveen keenly replied that it was worth remembering the state of our country's finances when the current government started.
Food banks were widely condemned by Labour, UKIP and the Trade Union and Socialist Coalition, but according to Mr. McIlveen their existence demonstrated a strong Christian ethos of charity and community support. "Isn't it appalling that we have them, though?" interjected the mediator Richard Staples. "Oh, yes, in an ideal world they wouldn't exist," Mr. McIlveen responded.
Looking at the most important things in York, the Greens asked that we abandon the dream that our local economy can be propped up by tourism ("Get real!" grunted Mr. Tyler) and look at how we are damaging our local environment. Nick Love said that he would change the local council to make it run more like a business, ensuring that it delivered what it promised and did so on time. Yorkshire First said that Yorkshire should assume more powers as a region, just as London has done, to overcome its economic problems. Mrs. Maskell and Mr. Guest reminded us how local businesses, especially our most famous such as Rowntree's or Terry's are being absorped or removed.
Finally, how would these candidates help young people who feel disillusioned with the politics of today? Chris Whitwood remarked that politicians should do more to engage with young people, for example behaving like adults in the House of Commons. The Greens, the Liberal Democrats and the Trade Union and Socialist Coalition would reduce the voting age to sixteen years, with Miss Ollerhead calling for compulsory political education in schools.
The following two tabs change content below.
Comment and Politics Editor 2015/2016, Editor 2016/2017, Alumni & Public Relations Officer 2017/2018 and acting, 2018/2019. Waiting to graduate with MA in Philosophy at University of York in 2019.
Latest posts by Jack Harvey (see all)